New YorkCNN —
Cal-Maine Foods, the largest egg producer in the United States, reported revenue doubled and profit surged 718% last quarter because of sharply higher egg prices.
The company, which controls about 20% of the US egg market according to Reuters, said its average selling price for a dozen eggs in the quarter ending February 25 was $3.30, more than double the average of $1.61 a year earlier. Despite the higher prices, the total number of eggs it sold edged up 1%, so its overall revenue rose 109% to $997.5 million.
That doubling of revenue was nothing compared to its profits, however. Net income soared to $323.2 million from only $39.5 million a year ago.
The jump in revenue and profit had been expected but easily topped forecasts. Shares of Cal-Maine (CALM) were up 4% in premarket trading.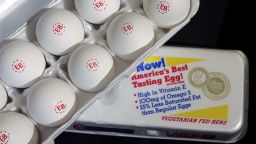 Surging egg prices mean record profits for largest US egg producer
A deadly and highly infectious avian flu has forced US farmers to kill millions of egg-laying hens, reducing the country's egg supply and driving up prices. But Cal-Maine said in its earnings statement that there have been no positive tests for avian flu at any of its owned or contracted production facilities.
Egg producers' pricing decisions have been criticized by some politicians, who accuse them of profiteering and price gouging.
"American families working to put food on the table deserve to know whether the increased prices they are paying for eggs represent a legitimate response to reduced supply or out-of-control corporate greed," said a letter sent by Sen. Elizabeth Warren and Rep. Katie Porter to Cal-Maine and other major egg producers last month.
Cal-Maine did not immediately respond early Wednesday to a request for comment about the letter.
Egg prices did start to retreat slightly in the government's most recent inflation reading for February, but are still up more than 55% from a year earlier.
Story from CNN/Mar 29, 2023
Images from CNN and Wikipedia